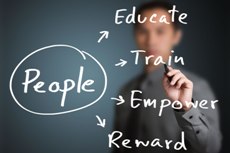 Human resource management can seem tedious and even unnecessary to a small business owner. You do not have hundreds of employees, so why complicate things? Effective HR management can, however, be a great asset to your business, helping you avoid lawsuits from former employees, giving employees an environment where their skills can grow, and most importantly, giving you better oversight and control over your business. Human resource department also plays an important role in helping you avoid personnel related mistakes that have the potential to result in lawsuits and fines that can hurt your business. Read on to see what common mistakes HR department can help avoid.
Hiring the Wrong Person for the Job
This seems intuitive but it is easy to make this mistake, especially if you rush through the hiring process to fill important positions. You must have a clear picture of what the position you are advertising requires. What will the employee be doing? What skills are required to do this effectively? This picture must be communicated clearly to the applicant and the interview panel. This communication starts with the job advertisement and requires a clear job description.